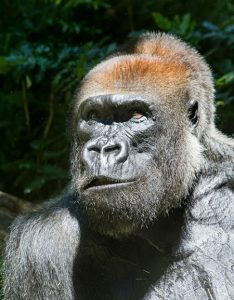 A male gorilla fondly called Leo, passed away last week at age 40 after a brief illness. The upper middle-age gorilla had been under a 24-hour care this week. He died in his off-view sleeping den.
Last Monday, the 360-pound gorilla had no interest in food or drink, and did not want to leave his den to go outdoors. The zoo's animal health team did a visual assessment and a 24-hour treatment plan that included medications, hydration, hand feeding and observation. Plans to anesthetize him for a diagnostic exam were canceled because Leo had shown significant signs of improvement. "Leo drank and ate a lot and urinated, a positive sign of hydration. Also, his activity levels increased and we even observed play behavior, so we believed he was on the mend," said Nancy Hawkes, PhD, Woodland Park Zoo's director of animal care. "We continued monitoring him overnight. Unfortunately, he died suddenly in the presence of one of his gorilla keepers and close proximity to his family without any warning."
Leo was the silverback (adult male leader) of his group: 22-year-old female Nadiri; 2-year-old female Yola, daughter of Nadiri; and 16-year-old female Akenji. Leo's body was kept overnight at the gorilla building so his family and animal keepers could be with him. Gorillas are social animals, explained Hawkes. "This is a devastating loss for Leo's family, our gorilla keepers and our zoo family. We're shocked by his sudden death and will provide extra support and TLC for his family group. This is a very difficult time for our staff and volunteers."
For the immediate future, Nadiri, Yola and Akenji will continue to be in the outdoor exhibit during zoo hours.
The median life expectancy for male western lowland gorillas is 32 years old, although gorillas in zoos can live in to their 40s and 50s because of the evolving field of zoo medicine including improved husbandry and management techniques, excellent animal care, better nutrition, increased medical knowledge, and diagnostic and therapeutic techniques.
As a standard procedure, the zoo's animal health team will perform a necropsy (an animal autopsy) to determine the cause of death and to share the results nationally among scientific colleagues to help advance the understanding of medical issues in gorillas, explained Dr. Darin Collins, Woodland Park Zoo's director of animal health. The cause of death is pending final pathology tests in several weeks.
Leo's rise to becoming a leader in a cohesive group and a surrogate father to Yola is an incredible story. Leo moved to Woodland Park Zoo in 2008 and, because of the incredibly dedicated team of compassionate and determined gorilla keepers, he was successfully socialized into his existing family, and respected and loved. Read Leo's extraordinary story here.