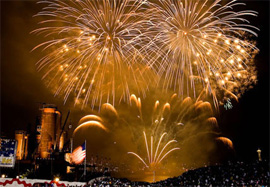 Since yesterday afternoon's announcement from One Reel that they weren't able to secure a sponsor for their annual July 4th fireworks show at Gas Works Park, the local reaction has been furious — and fast.
This morning KIRO talk show host Dave Ross proposed taking $1000+ donations from local businesses and citizens to fund the show. He lined up the first sponsor, chef-restaurateur Tom Douglas, and has since added many more. You can track the donations — or pledge to donate — here.
We talked with One Reel marketing and communications director Mikhael Williams this morning about Ross's plan. She told us, "We would be so excited and thrilled if we could pull this off this year, but has to happen very quickly. From our perspective, the window was closed on a title sponsorship because of the traditional expectations and benefits that they receive. If there are people in the community who want to rally around the event, who don't have the traditional expectations of sponsorship, we would happily put this on."
Williams cautioned that the window is closing fast to fund the event — she said that Ross would need to raise $500,000 by Monday, April 5.
Williams said that One Reel "didn't make this announcement lightly. This event is important to One Reel, we've done it for more than 20 years." She added, "What has been astonishing is the rallying of the Seattle community. This has been a tradition for the community. People have come to know and expect and love the fireworks. We're willing to look at alternate ways to fund it."
(Full disclosure: Next Door Media, which powers MyWallingford.com has donated to this fund.)