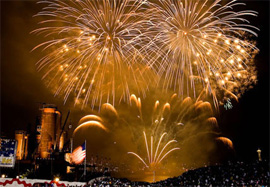 Updated: For more than two decades, Gasworks Park was the place to watch an incredible Independence Day fireworks show. Today, One Reel, the company who produces the event announced that there will be no Family 4th and Lake Union this year. Tomoko Moriguchi Matsuno, president of the One Reel Board of Directors, wrote this letter on Chasefamily4th.org.
Dear Community,

Since 1988, One Reel, the Seattle not-for-profit arts organization of which I am Board President, has been proud to produce the cherished Independence Day celebration and fireworks show, the Family 4th at Lake Union. This day of free family entertainment and a dazzling fireworks display has been, for more than two decades, an important time for us to come together as a community and celebrate this great country.

As a non-profit organization, One Reel's core mission is to produce arts and cultural events that engage and enrich our community, but we cannot do it alone. You may not realize this free civic celebration has been an annual gift to Seattle made possible only through the generosity of a corporate sponsor who underwrites the cost of the event. One Reel wishes to extend a very special thank you to the sponsors we've been fortunate to work with over the years, including Fratelli's, Cellular One, AT&T, WaMu and Chase.

For the past 15 months, One Reel has worked tirelessly to secure a title sponsor for the 2010 Family 4th at Lake Union but, regrettably, we were not able to secure one in time to proceed with this year's event. For that reason, it is with a heavy heart we announce there will be no fireworks or festivities at Gas Works Park this year.

We understand the disappointment you must feel; we feel it too. However, I can assure you that One Reel is already hard at work searching for a new title sponsor who shares our commitment to presenting this beloved community event in Seattle next year, and long into the future. As always, One Reel remains dedicated to providing you with premier events—from the Family 4th at Lake Union, to Bumbershoot: Seattle's Music & Arts Festival, to Teatro ZinZanni—that showcase the talent, artistic diversity and integrity of our great city.

Thank you, Seattle, for your ongoing support. We'd like to thank everyone—from our generous past title sponsors, to the City of Seattle, to event suppliers and on-site vendors, to more than 5 million patriotic revelers over the last 20 years—all of whom have made this event such an iconic holiday tradition.

We look forward to seeing you next year at Gas Works Park for the Family 4th at Lake Union.

Sincerely,
Tomoko Moriguchi Matsuno
President and CEO Uwajimaya Inc.
President, One Reel Board of Directors
Wallingford Community Council president Mary Heim told us, "I'm not that surprised with the economic conditions as they are. I think it's a shame, but last year Ivar's cancelled their show [on Elliott Bay] and put the money toward food security issues; how can you argue with that?"
She added that she's concerned people will buy fireworks and shoot them off in backyards and parks if they have nowhere to see fireworks.
Wallingford Chamber of Commerce president Kara Ceriello was more emotional: "What the hell? I live in a city that had two major fireworks and now nothing, not even something small." She put out the suggestion that Paul Allen's company sponsor a fireworks show on South Lake Union and call it the Vulcan Family 4th.
Ceriello also was concerned about people buying illegal fireworks and creating their own show. "Do you know how busy the police will be chasing down everyone's illegal fireworks?" she said. "This is lame and ridiculous."